This page is all about bass guitarist and vocalist Geoff, originally from Cambridge and resident in Spain for the last nine years.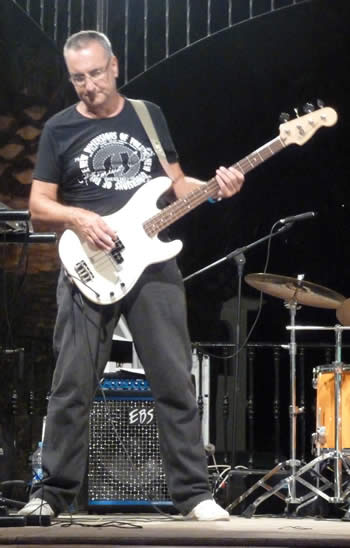 Geoff joined Karma in April 2017 following the exit of guitarist Brad and the switch from bass to lead guitar by Terry.

Here is a short bio from Geoff:


"Way back in school when I started to get interested in music and girls I quickly noticed that if you played a musical instrument, it interested the girls too - no contest! - But then I got into realising that the music was way more important than the girls and so that took over.


First up after I'd learned three chords I was in a folk trio in school, we did something at a school fete I think, but that was in 1967, a long time ago!


When I went to college, I met up with lots of like minded people and we formed a band. After I left college this band merged with another to form a local supergroup called Elder Kindred, playing original material we did the circuit of universities and clubs and got to support some great bands of the time like ELO, Supertramp, Uriah Heap, Climax Chicago, Vinegar Joe (with Elkie Brooks and Robert Palmer) and Status Quo to name a few. We had a great time chasing a record deal that never came.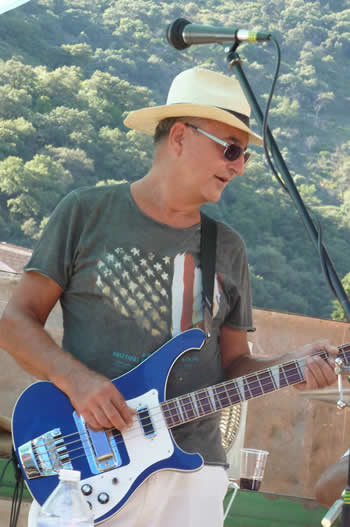 After that I played in a lot of covers bands doing our take on original numbers, from pop/rock, through blues and soul and even a bit of Ska and Reggae too - great times but not enough to earn a living at it, so I got a 'proper' job for a while.


Moved to Spain permanently in 2008 and soon fell into the music scene. Firstly joining local band CoinBox, then on to Cero Cero before leaving them to join The Rob Sas Band.


I also played with The Project and Roadhouse as well as Ben James and The Classified, The Jersey Boys Band, Keep the Change, Fairplay and lastly Raw Remedy.


And now I've landed with Karma - a fitting progression to be back playing original material again - long may it last!"


...and Karma are over the moon to count Geoff as member of this exciting musical project!