If you always wanted to learn how to sing but thought it was too difficult, my review of the Superior Singing Method will prove it's much easier than you ever believed!

You probably dreamed about becoming a great singer when you were a kid and even right on through to adulthood. But maybe you baulked at the idea of learning because you always believed it was difficult, you had to have a good voice to begin with or you had to be pitch perfect to be able to sing at all.

Note: As an affiliate of Superior Singing Method I earn commission from qualifying sales.

Well these myths, which is what they are really, are blown apart comprehensively in this incredibly full featured and professional online vocal tutoring course that I'm going to talk about here.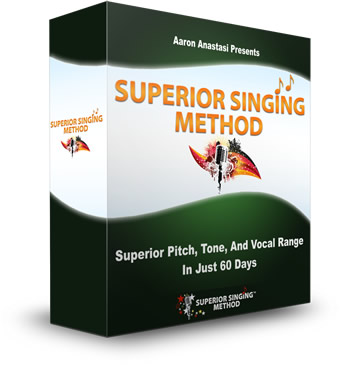 Because as you will soon see, you don't need any special vocal qualities or any experience whatsoever to be able to learn how to be a singer with a great voice that you can take to the very pinnacle of success if you desire it!
What is this Singing Course All About?
This video based online singing and vocal tutoring program was created by world renowned professional vocal instructor Aaron Anastasi.

It is designed to help you to go from not knowing the first thing about how to sing (aside from what you see on TV maybe) to being confident and capable as an amazing singer. And to do it easily and without all the hard work that you may have believed was involved in the process!

The course is set out in eight easy to follow, common sense steps that you will enjoy taking each day on your journey to songster heaven!

You will learn how to easily take control of your own voice through a series of vocal exercises that are great fun to try out and get serious with as you find it getting easier to do day by day.

When you sing, you use certain muscles that in the beginning are quite weak. It's just like when you start training in a gym to build up the strength in your arms or legs those muscles are weak through lack of use. But the more you work them, the stringer they get.

It's the same when you sing. The more you work the muscles, the stronger your voice gets and the easier it gets to control your pitch and intonation!
A Personal Voice Trainer
In fact, having this program is just like having your own personal vocal coach with you right there in your own home. And he's teaching you all you need to know to become a great singer!

You can do this in the privacy of your own home and not get embarrassed in front of anyone if you don't want to. You take it at your own pace and so you don't feel rushed or under any pressure whatsoever.

The only person who will be spurring you in will be you (and of course Aaron who will be telling you and showing you what to do on the videos). Do you think you can learn how to sing in this way?

I think you can and maybe it's because you're not under any pressure to be put on the spot in a physical singing class situation where you might feel shy or embarrassed to so stuff in front of other people. With this course, it's just you and Aaron giving you all the professional tuition you could ever want on your own home computer or TV via your DVD/MP4 player!
How to Buy the Superior Singing Method Online Tuition Course
Getting your copy of this superior vocal tuition course is easy. Just click the link below to visit the official website of the program's creator, Aaron Anastasi where you can read some more about it and if it's what you really want, then you can buy the course direct online from there. You'll be so amazingly happy you did!

UPDATE: At the present time, this course has been taken down for updates and is not currently available to buy.

I can offer you what I consider the best alternative singing course, which is Melanie Alexander's Singorama:




...or click the link to read my full review of the Singorama singing course right here in this website.

You really can learn how to sing beautifully and this course shows you exactly what to do. Imagine how great that will be!

Note: As an affiliate of Singorama I earn commission from qualifying sales.
The Benefits of Being Able to Sing Well
There's more to being able to hold a tune than just belting out an old standard at the local karaoke bar. When you can sing really well, a whole world of opportunities opens up to you that you may not have realized before.

You could suddenly find yourself very much in demand by local bands looking for a good vocalist to lift them to the next level. Many bands are stuck in a rut because they just don't have that extra element in vocal ability to vastly improve their repertoire and depth of creative ability.

Recording studios are always on the lookout for good singers to work as session vocalists for backing big name artists and this may be an aspect to your new found ability that you maybe hadn't thought of yet. There can be a lot of money made from this side of the business without needing to get he kind of popular exposure that can be off-putting to many people.

If you do crave the limelight, there are plenty of music bars and clubs that are in need of a resident singer with flair and presence to compare their acts and keep the audience entertained in between each act with a song. You could be discovered in such a place and all of a sudden find your life turned upside down in a very nice way!

There are so many doors that can open for you when you have talent and a professional level vocal ability. If you want them to open, you need to gain the necessary level of ability to go knocking and you might just be pleasantly surprised at what comes your way.