Welcome to the website for Southern Spain's one and only A-List ORIGINAL Rock Band playing live at premium venues and biker gigs in Malaga Province on the famous Costa del Sol.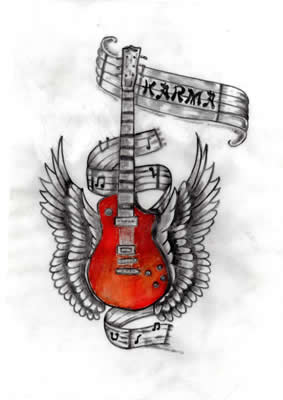 We have a lot of experience playing all kinds of live gigs from small bars to huge biker event concerts.

Welcome to Karma!

For the last year or so, the band have been writing their own songs and performing them at gigs. We've added one or two new songs each time and now we are at the point where we can actually perform a full concert with ONLY our own songs.

That's right, no covers! Of course, we do include some well known covers in our live performances, but the majority of the songs are our own.

This year will see the band recording live video of their concerts and uploading the best of their own songs to Youtube. Find us here: Karma Spain.

The first song uploaded is entitled: "Find a Way" and was recorded at the biker's club house in Coin at a rehearsal on a mobile phone. Unfortunately the sound was pretty distorted, but it's still worth a look!

Later Footage: You can check out our second ska song performed at rehearsal in Coin back in 2020 here:

"Skaturday"

Great for ska lovers, right! However, this is just one song, not really representitive of our entire musical repertoir. That's made up of a mix of original rock, funk-rock, blues rock and the odd ska with a smattering of rock and blues covers thrown in for good measure!
New Lineup 2020
Karma grew back in 2018 to become a 5-Piece as you can see from the image (right) of us playing live at the Road Demons clubhouse in Coin on 14th April 2018.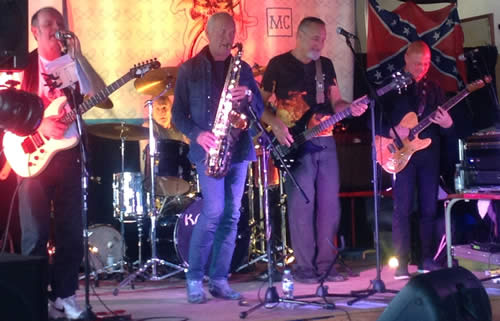 We have a superb sax player (Jaap Vander) added to our lineup and you can see him with us at our next live gig.

The music has changed a little too, since the departure of guitarist and vocalist Brad. We're more rock than roll, that's for sure!
Fast Forward 2021:
Now we're into the summer of 2021 and there have been some changes to the band.

Pete, the founding member of the band has decided to call it a day on gigging and left the band back in September, 2020. We were all very sad to see him go. :(

Early in 2021, Geoff, our long-time bass guitarist who took over after I switched to guitar has also left, and we were similarly sad to see him go. :(

So now we are four. That's us in the header image across the top of the page, playing live at the Gin Bar (Riviera del Sol) in May this year. We will continue to rehearse and get out there and play live when the gigs present themselves.

Our current lineup is Herbert on bass guitar, Jaap on saxophone, Edward on drums and yours truly, Terry on guitar and vocals.

Oh, did I not mention I've retired the bass and returned to my main instrument? And I'm still using my old white 1989 Fender HM Strat that's been my main guitar like forever (since I bought it new in Denmark St - Tin Pan Alley - all those years ago)! That's it in the picture, above right.

We've introduced some more new numbers to our set including more originals as well as some rockin' covers like the Judas Priest version of Fleetwood Mac's "Green Manalishi" for example. Plus our own take on some well-known songs, like "Ghost Riders;" "I Shot the Sheriff;" "She's Not There" etc.
Live Dates 2022:
As I mentioned, we're still gigging where possible. That's not so easy in today's fear-fuelled climate, but there are still some places to play.

If you want to see some first rate live music and like to hear original songs that no one else is doing, then come along to one of our live gigs and see us in action.

Entry is free and start times will be late evening unless otherwise stated.
Wed 19 January: Family Bar - Fuengirola (in the Port). Jam Session. Starts 8.30pm
Every Wed until 17 April: Family Bar, Fuengirola (in the Port). Jam Session. Starts 8.30pm
Sat 26 February: Bonnet, Fuengirola (in the Port). Starts 11pm
Fri 4 March: Cafe Del Mar, Paseo Maritimo 6 Doña Sofia, Fuengirola. Starts 8.30pm
Fri 22 April: Cafe Del Mar, Paseo Maritimo 6 Doña Sofia, Fuengirola. Starts 8.30pm
Thu 5 May: Kalifato, on the beach Carvajal. Starts 3.00pm
Fri 13 May: Cafe Del Mar, Paseo Maritimo 6 Doña Sofia, Fuengirola. Starts 8.30pm
Sat 11 June: Molly's Roadhouse (was the old Ginger Pig), Coin
Sat 16 July: Louie Louie, Estepona. Starts 11pm
Sat 5 August: Kalifato, on the beach Carvajal
Sat 16 September: Bonnet, Fuengirola (in the Port). Starts 11pm
...more live dates to be announced. Keep music live!


Note: Karma are the house band at the jam session every Wednesday night at the Family Bar in the port, Fuengirola.

PA and backline provided. Calling all musicians:
Come along, bring your instrument (or your mic if you're a singer), plug in and join in the fun!

IMPOTANT! The Wednesday night Jam Session is suspended through the summer: Check back after September for more info!


Rock on!
Past Members:
2015
2017
2020