Welcome to the website for Southern Spain's one and only A-List original Rock, Rhythm and Blues Band playing live at premium venues and biker gigs in Malaga Province on the famous Costa del Sol.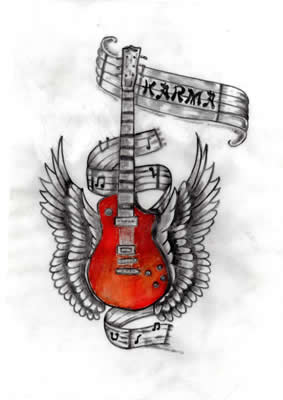 We have a lot of experience playing all kinds of live gigs from small bars to huge biker event concerts.

Welcome to Karma!

For the last year or so, the band have been writing their own songs and performing them at gigs. We've added one or two new songs each time and now we are at the point where we can actually perform a full concert with ONLY our own songs.

That's right, no covers! Of course, we do include some well known covers in our live performances, but the majority of the songs are our own.

This year will see the band recording live video of their concerts and uploading the best of their own songs to Youtube. Find us here: Karma Spain.

The first song uploaded is entitled: "Find a Way" and was recorded at the biker's club house in Coin at a rehearsal on a mobile phone. Unfortunately the sound was pretty distorted, but it's still worth a look!

Update: You can check out our first ska song here: "One More Step"


New Lineup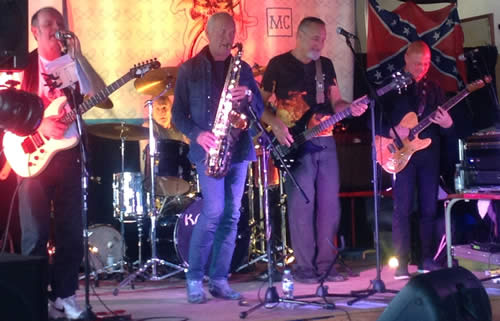 Karma has grown, by one member to be precise to become a 5-Piece as you can see from the latest image of us playing live at the Road Demons clubhouse in Coin on 14th April 2018. We now have a superb sax player (Jaap Vanden) added to our lineup and you can see him with us at our next live gig.

The music has changed a little too, since the departure of guitarist and vocalist Brad. We're more rock than roll with a new bass guitarist (Geoff), drummer (Roland), saxophonist (Jaap) and lead guitarist (yours truly, Terry).

We've introduced several new numbers to our set including some more originals as well as some heavier covers like the Judas Priest cover of Fleetwood Mac's "Green Manalishi" for example.
Live Dates 2018:
If you want to see some first rate live music and like to hear original songs that no one else is doing, then come along to one of our live gigs and see us in action. Entry is free and start times will be late evening unless otherwise stated.
Jan 13: Road Demons (Clubhouse), Coin - Note: 5pm start
Mar 03: Road Demons (Clubhouse), Coin - Note: 5pm start
Apr 14: Road Demons (Clubhouse), Coin - Note: 4pm start
Jul 13: Ginger Pig, Coin - Supporting Deeper Purple (Note: 5pm start + €10 Entry)
Aug 25: Willie's 10th Arseout Rally, A366 Coin-Guaro (€15 Entry - includes food & beer! - proceeds to charity)
...more live dates to be announced. Keep music live!

Curiosity: You might be wondering why we don't have many dates listed above. If you didn't already know, the Spanish authorities have taken it upon themselves to require that all musicians are registered as autonomo (self employed) and proof of which must be produced when tax officers visit and inspect bars providing live entertainment. Failure to do so can result in fines up to €3,000 per musician (and this maximum is sought every time, apparently).

That would be fine if we all got paid what we were really worth and could afford the hefty monthly social security payment that all self employed people are expected to make. But we don't.

That probably goes for around 90% of musicians in this area.

It is just not economical to pay to be self employed when you play a few gigs here and there. This is obviously bad for live entertainment and will ultimately negatively affect the tourist industry when people turn to alternative regions that have better live entertainment on offer to take their holidays.

Rather than risk being screwed deeply in the collective arsehole by the pawns of greedy, corrupt politicians, we prefer to raise the big finger in their direction and tell them all to shove it!

Needless to say, that means fewer public gigs for us. Shit happens.