Do you dream of performing as a musician or singer on stage to a huge audience of music lovers and getting rapturous applause for your amazing talent? That dream can become a reality if you really want it to!

All you have to do is want it enough to take action and start learning how to sing or play the musical instrument you always wanted to. Here at Web Music Star, that's what I'm going to show you how to do.
Become a Great Performing Musician or Singer
Did you know that there are countess thousands of talented musical people out there who have never had the courage to play a musical instrument or stand up and sing in front of other people? The amount of totally unknown talent is staggering!

Are you one of them? Do you think you are musically talented but don't have the confidence or believe you have the ability to get up and play to a live audience?

Do you want to?

The fantastic truth is that you really can do it. All you need is that confidence boost and self belief that comes from having studied and been coached in your chosen musical field.

The beauty of our modern way of life is that it is so much easier and cheaper to get that tuition now than it was twenty or thirty years ago. And it's all thanks to the Internet and the proliferation of professional online courses that teach all kinds of music.
How Do I know?
Fist off, let me introduce myself. I'm Terry and I have played in bands since I was a teenager in school back in the 1970s. I never made it to the big time, just like the vast majority of talented players, but that doesn't mean I never got to play to thousands of people. I did!

You can read more about me in the "About" page by clicking the link in the navigation bar at the top of this page, or you can read about my current band called "Karma" which is based in southern Spain, my home for the last decade or so.

What I'm saying here is that I've been in the live performing music business for close on forty years as a guitarist, bass guitarist and singer. So I know a thing or several about what is possible!
Professional Online Musical Courses and Lessons
These days you can pick up a really top professional musical coaching program for next to nothing compared to what it would cost you if you had to hire a personal coach. And these online musician's courses are of the highest quality and created by thoroughly professional teachers in all the popular fields of music.

So which one do you choose and how do you know you're getting the best online musical tuition for your money?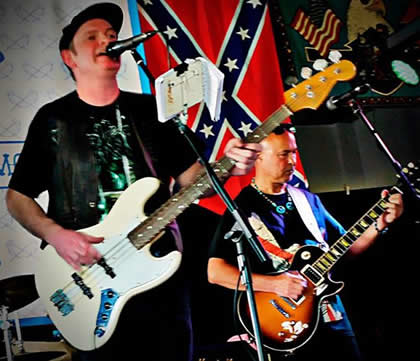 I can help you there. I've tried and tested many of the singing and musicianship courses that are available to buy online.

So I can recommend those that are, in my opinion, the best in terms of professionalism and ease of use for all levels of ability from complete beginners right up to those of a high standard who just want to polish their skills and boost their confidence to perform.

Throughout this site I've added a lot of information that can help you to find the right tuition for your needs while selecting those programs that are affordable and provide all the necessary tuition you'll need to get you from where you are today to where you want to be tomorrow!

Below I have summarised some of the things you can discover in this site for both singers and musical instrument players who are keen to sing or play in front of an audience either as solo artists or as band members.
Top Singing Lessons Sites for December, 2023
Singorama - Essential Guide to Singing (Read My Review)
Elite Singing Techniques - Udemy top course (Read My Review)
Superior Singing Method (Read My Review)
Brief Musical Notes
Singorama
Professional singing and voice coaching program created by Melanie Alexander, lead singer with top Australian all girl band, "Girlfriend."
Reveals the secrets of the top professionals in the music industry that you won't find in free courses
Provides a step by step road map to singing success that anyone can follow and apply to their own success
No experience necessary to gain a spectacular singing voice
No spending hours every day practising boring scales. Just 30 minutes a day can bring you profound success!
This easy to understand and follow training course is a must for beginners and more experience singers alike. Learn first hand from a true professional who has been at the pinnacle of pop success and has now decided to share her secrets with you!
Superior Singing Method
Learn amazing voice control in this easy to follow video course
World renowned vocal instructor Aaron Anastasi takes you through eight simple steps of high level voice training
Just like having your very own personal vocal instructor to show you precisely how your voice works
Develop strong vocal muscles so your pitch becomes perfect and your tonality rich and powerful
Take your singing capabilities to the next level and experience vocal breakthroughs you never knew were possible with this top course that has been used and highly praised by over 10,000 singers inclucing professionals, top recording artists and total vocal beginners.
You Can Learn How to Sing
With the information contained in this site, you will certainly be able to learn to sing like a pro in a surprisingly short space of time. There are so many great resources available and I'm placing them right in front of you so you can see what's available to you.

What is really great is that you can get some absolutely top rated singing classes online for kids, for teens or for adults. And it doesn't matter if it's for beginners, intermediates or for those expert singers who would just like to pick up some up to the minute vocal techniques they might not already know about.
Singing Tips for Beginners
You'll also get access to some really cool tips that will help you to sing a variety of songs in a variety of ways that will not only suit your voice and vocal style, but also extend your range of notes that you are able to reach with relative ease! Just imagine how amazing it would be to sing like a true professional, in tune and beautifully whenever you want to!

It's more than just possible. It's real, doable and you can do it if you want! Learn about the vocal techniques the pros use and then emulate them. You'll soon pick up these great tips and tricks and find yourself growing as a songster yourself in ways that will pleasantly surprise and amaze your family and friends.

People who thought you couldn't sing will be floored when you go right ahead and prove them wrong! Did you ever believe in your wildest dreams that you could ever do that? Well you can!
Resources: